LED Light Bulbs Outshines Solar and Wind on U.S. Power Grids

Just Change Your Light bulbs
Power grid manager here in the United States are learning that the most effective way to reduce carbon emissions is as simple as changing your lightbulbs.
The larges grid in the nation (serves 61 million customers), is taking a second look at its demand forecast and realizes that better lighting has undercut its projections. The transition from the traditional Thomas Edison's incandescent lightbulbs with LED technology would save enough energy to provide power to 20 million American homes, acording to the Energy Department.
February 2015 was the first National Football League championship game that was played under LEDs.
Our energy-conservation efforts here in the United States from switching bulbs to upgrading air conditioners has done more to reduce carbon emissions than the increased use of solar, wind and natural gas (according to Wood Mackenzie Ltd). These upgrades can help meet 50% of the emmission cuts sought under President Obama's Clean Power Plan.
"It's a total bulb revolution," Prajit Ghosh, director of power and renewables research at Wood Mackenzie in Houston, said Aug. 10 by phone. "The decline in load growth from both macroeconomic factors and energy-efficiency gains is by far the biggest reason carbon emissions fell. At least for the last five years, a majority of these savings came from lighting."
Better LED Light Bulbs
The Energy Independence and Security Act of 2007 required lighting to become 25-30% more efficient by 2014 from 2008 levels.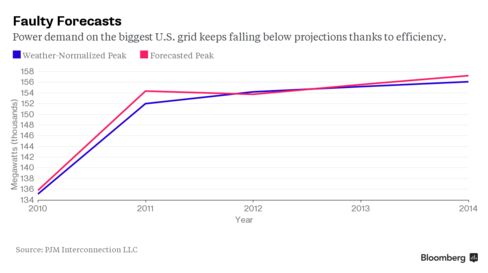 Lighting accounts for about 5% of a home's energy budget. Switching to energy-efficient bulbs reduce costs and use 75-80% less energy than incandescent and last 25 times longer.
The Energy Department estimates that by 2020, 83% of the lighting market share will be in LEDs. The cost of the bulbs have fallen by over 85% in the last six years.
The Ikea Group, a international furniture retailer, said that they will carry only LEDs starting September 2015 and that they would be sold at the lowest price on the market.
Grid Impact
The largest US grid, PJM Interconnection LLC, will begin to include the effect of more efficient light bulbs and appliances in its long-term demand outlook.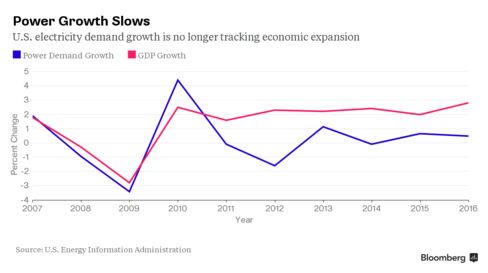 Over the next 15 years, it is projected that energy demand will be cut by about 4 percent each year.
PJM is not alone in the discovery of the new efficiency. The Texas grid operators has adjusted their demand forecasts as growth lagged behind the rebound of the economy.
More Savings and Less Carbon Emissions
"Power demand growth that was expected to be reached in 2017 won't be achieved before 2030,'' said Ghosh of Wood Mackenzie.
The US power demand reached an all-time high in 2007 at 10.66 billion kilowatt-hours. This level has not been reach since according to the US Energy Information Administration. Carbon dioxide emissions from electricity producers declined by 15% over the past 8 years.
U.S. power demand reached a record 10.66 billion kilowatt-hours a day in 2007, a level not matched eight years later, according to the U.S. Energy Information Administration. Carbon dioxide emissions from electricity producers declined by 15 percent to 2.17 billion metric tons in 2013 from 2005, the agency said.
Lower demand forecasts mean providers need less power generating capacity and that can result in lower costs for consumers.
*Content from article from Bloomberg